SOLITAIRE
Fairway Wood Collection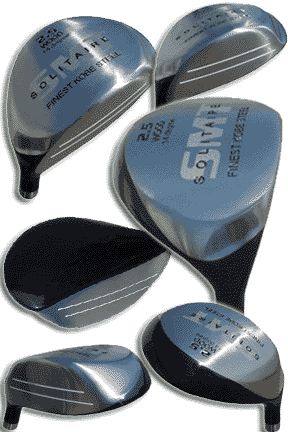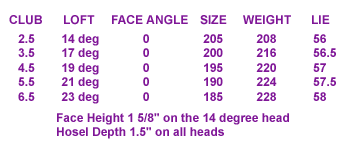 Now In Stock
Solitaire Technology....
Our first step into the fairway wood market had to be a bold one.
After reviewing the high speed photographs from the design phases of the smooth face 455 & Nemesis heads, there was a series of about 60 pictures in the middle of the pack, that looked as if there was some kind of smoke at both ends of the face of these very popular drivers.
After about 30 minutes of study, it dawned on me that the series of pictures that I was looking at were the "water test" shots. I actually wanted to test the smooth face with...
#1 The ball being wet & the face dry.
#2 The face being wet & the ball dry.
#3 Both the ball & the face being wet.
Trying to simulate any conditions that you might face. It seems that the "smoke" that I was seeing was the actual water escaping the clubface....
I noticed... the water left the face, in these pictures, high near the toe of the club, and low near the heel.
I was shocked! I immediately began to wonder why "traditional" clubheads had face scorelines that ran straight across the face of the club.
Oddly enough, at this exact instant, I looked up at the tire commercial on the television, it was an under the tire view of the water channeling away from the tire to promote better traction.
I figured that it must be fate or something...
Anyway, the first designs I submitted had a serpentine shaped line, the USGA didn't like this idea. The lines had to be straight, so the two scorelines on the face of this club actually are slanted. Higher in the toe and lower in the heel to promote quicker transfer of foreign materials away from the face of the club.
Now, keeping with the highest quality product that you have come to expect from SMT Golf, the materials and the workmanship had to be spectacular as well.....
Cold Rolled KOBE Steel from Japan.
Unique Bi-Level toe and heel to promote trajectory.
Every head cannon tested 25 shots at 100 mph.
Beautiful see through navy blue color.
100% Lifetime Warranty
The Solitaire Fairway Wood Collection....
$49.00
Includes Headcover & Ferrule

Shipping Less than $10-$4.95, under $20 $8.95, $20 and over $9.95.
Return to Shopping Cart/Finish Checkout
We like the new Accuflex FH Fairway wood shaft
with the SMT Solitaire Fairway Woods




| Questions