graphite shafts, graphite, smt golf, titanium, accuflex, golf components, long drive, custom clubs, graphite shafts, smt, smt golf, titanium woods, titanium, smt, world long drive, custom clubs, golf clubs,titanium, custom clubs, accuflex, smt golf, smt, titanium, custom golf clubs, components, accuflex

smt golf, custom clubs, titanium heads, accuflex, graphite shafts, world long drive, golf components, golf components, smt, smt, smt golf, custom clubs, golf components, graphite, graphite shafts, custom clubs, golf clubs, clubmakers, accuflex, titanium heads, cryo-forged, golf components, graphite shafts, titanium heads, long drive, beta titanium, components, golf components, custom clubs, accuflex, titanium, titanium
SHINNECOCK ACCOMPLISHMENTS
SHINNECOCK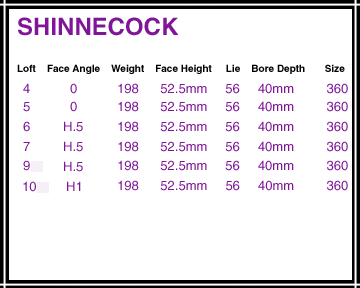 $99.00 per head
Includes Free Headcover
4,5,6,7,910,11,12, and 14 deg lofts
Shipping Less than $10-$4.95, under $20 $8.95, $20 and over $9.95.
This is one of our favorites. Lost in the hubub about the 455 and Nemesis, the Shinnecock has put together some serious accomplishments on it's own. (See Sidebar at left). The Shinnecock features the longest club from heel to toe. This club is so easy to line up, you will wonder why you have been wasting your time with you present driver. Elegant tear drop shaped soleplate leans the weight more toward the toe for the ultimate in solid contact. This club looks fantastic, with a metallic black crown and a unique blue "eye" right in the center, that is carried through to the sole. Absoultely looks as great as it plays. Try it with one of the AccuFLEX Longdrive shafts, the new Assassin II World Champion, or the ProLD World Champion, You will be very glad that you did.
Here's a note from a happy customer...
"I bought the shinnecock driver with the accuflex extreme ld xx and cut it down to 48 inches. and i want to tell you it is the talk around the golf course i play at. i have added min. 20 yds to my drives and sometimes 40 yds. i tell everyone i take it home and sleep with it at night. i just love the way this club feels in your hands. thanks for being there for me. marty ps. if my brother cant get his for the whole summer he will probably shoot me!!!!!!"
Email us for an assembled quote with your choice of shafts.